[R&D] Matter-Bot: a chatbot prototype that knows Matterport & VR
One of our team members has developed a proof of concept of a chatbot able to answer queries regarding Matterport and VR.

http://matter-bot.azurewebsites.net/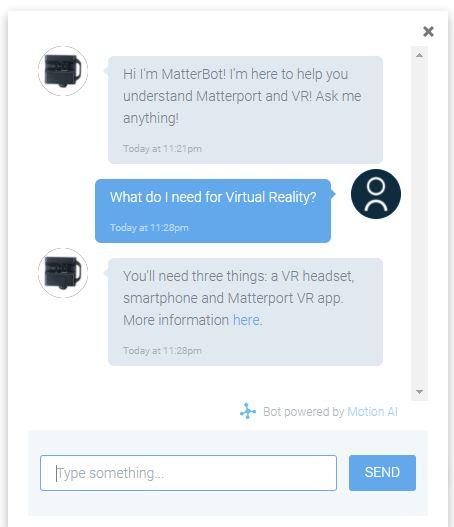 The prototype is somehow limited in its ability to use natural language sentences, but you can try inputing questions like:
- How do I use WebVR?
- Can I use Google Carboard?
- Tell me about CoreVR
- Is GearVR supported?
- Do you have VR tips?

Technically speaking, our developer used the http://motion.ai platform and uploaded the chatbot on Microsoft Azure cloud.
I want to stress that this is just a proof of concept, but imagine blending a virtual tour with a chatbot able to respond questions about the model showcased. And to take it to the next level, imagine if the questions are being asked through voice commands, while you are watching the model in VR.